[News] [Marcommnews] Dot Go, The World's First "Object Interaction" Platform for Blind and Visually Impaired People Launches in App Store Globally
Serviceplan Innovation and Dot Incorporation continue their innovative collaboration with the Dot Go app, a community-driven platform that recognises objects and connects these to specific actions. Dot Go helps the visually impaired to navigate the world, find objects and automate daily tasks which enable them to lead a more independent life.\ 
Dot Go, the first app that connects objects to actions, has launched in the App store. The innovative platform created by Serviceplan Innovation and Dot Incorporation and developed by Hyperinteractive for blind and visually impaired people, is now available worldwide on the App Store and can be downloaded for free on the latest iPhones and iPads.   
"A lot of blind people I know would be hesitant to go on trips, because dealing with unfamiliar environments is always challenging." comments Software Developer Florian Beijers, who is also fully blind. 
"Object detection apps are limited to identifying objects in the environment, but they fail when it comes to interacting with these objects in a meaningful and productive way. Think about a ticket vending machine: it's great to know where it is, but that alone doesn't help if the screen and interface aren't accessible."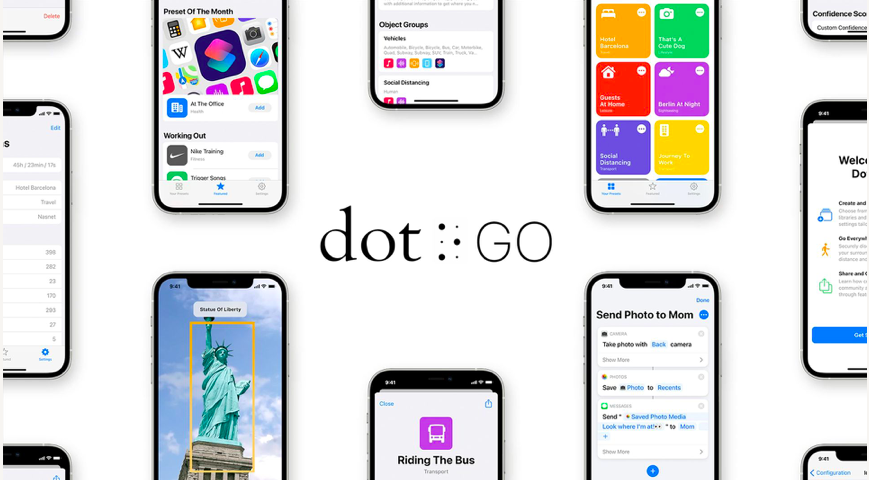 Dot Go connects objects with actions – for endless possibilities.
Serviceplan Innovation has found a solution to this problem. Dot Go is the first ever "object interaction" app. Unlike existing apps, it not only detects objects in the environment but also connects them to actions. These actions can be executed automatically and range from internal actions like sounds and vibration; to, most importantly, external actions in other apps, websites, and even smart home devices. 
Eric Kim, CEO Dot Inc. explains: "Basically, Dot Go can use any object in the viewport of the smartphone camera to trigger actions: A bus stop can automatically buy the right ticket. A product can remove itself from the shopping list. A road sign can trigger the flashlight to increase visibility. While this can be helpful for anyone, this makes a huge difference for those who suffer from inaccessible environments, like the 285 million visually impaired people worldwide. Dot Go makes any environment accessible, without specific modifications or hardware."