Dot Watch
Comfort-first yet still fashionable
First be surprised by how light it is. Then feel the magnetic silver colored mesh band wrap around your wrist seamlessly.
Long battery life continuous and timeless.
From morning's first light to evening's last star, enjoy stable Bluetooth networking with long-lasting battery life of ten days. The Dot Watch is ready to go with you.
Innovation straight from us to you
In the midst of noise, keep calm. Read notifications from selected applications completely free from noise.
Tell Date and Time
Automatically sync today's date and time with your Dot Watch. Simply connect the Dot Watch to the Dot Watch application via Bluetooth. Also available as a standalone product. Easily set the date and time manually without connecting to your phone when using the Dot Watch. Because your time is precious – embracing every single second.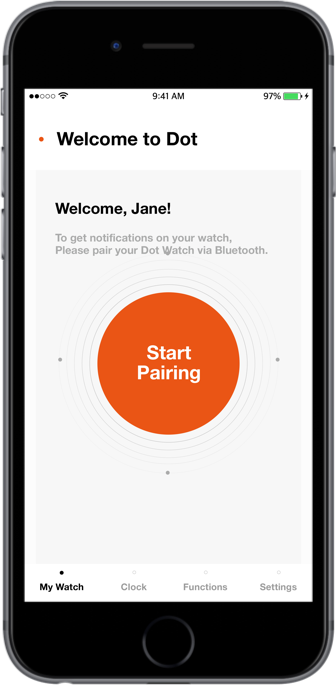 Get Notifications on Calls and Messages
It's so easy to get notifications. With just one click of a button, receive real-time information from your mobile device. C-A-L-L and vibrations will notify you of an incoming call. Check the caller ID on your Dot Watch. You can also read through messages, save important ones, and revisit them later on the Dot Watch application.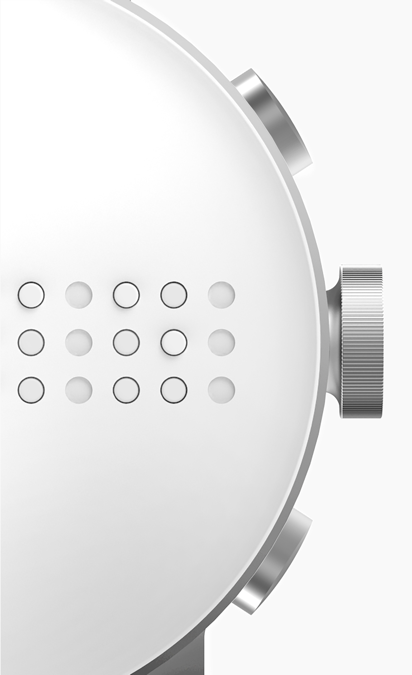 Smart features with the Dot App
By downloading the app and installing it on your mobile device, you suddenly get access to all the cool features and functions of the Dot Watch. Learn braille and practice reading it. Check how many steps you have taken throughout the day and monitor your life. Be prepared for the rain with the weather feature on the Dot Watch app. More features available.
Powerful and simple
Powered by their  patented technology, the Dot Watch is an active braille technology put into motion and integrated into a mobile form.
Free of sounds
Answer calls and read messages. The vibration on the Dot Watch will alert you each time.
 Stay connected with your friends and family.
A new paradigm
It's the first of its kind. Feel time beneath your fingers and revive your sense of touch.
Inclusive Design
The beginning of a journey towards the perfect balance of design and accessibility. Embrace the experience of a true invention.
Impressive in details
Their design philosophy promotes minimalism, With no compromises.
The NEW and IMPROVED Dot Watch App 2 – More features available
Download the Dot Watch application and get familiar with all the extra features. Maximize your experience with the Dot application.
---
Dot Mini (COMING SOON!)
Keeping it real.
In schools, amusement parks, airports, and more, our journey ventures into different aspects of life.
The Dot Mini enhances their vision of supplying educational devices to the visually impaired. The Dot Mini braille (16 cells) device is set to come out in 2018, with a focus on bringing education to visually impaired children in developing countries who are not able to afford costly devices. By providing a cost-effective solution for education, more children will have the opportunity to study. Eventually, this will help diminish discrimination within society.
With the given success of the Dot Watch and its evident global market entry in various market demographics, the Dot Pad will be the next product to make an impactful social change in the fields of education, employment, and access to information for the blind and the visually impaired. Also, with the huge available memory of the Pad, vast amount of information could be stored and accessed– enabling one to read books whenever or wherever he or she may want. There are endless possibilities and usage with this multi-layered display.
With a multi-layered display, visually impaired people can feel graphics such as shapes and sizes. There are huge implications behind this because its application is vast. For example, it can be applied to games for the visually impaired using the multi-layered tactile display, it can be applied to comics which will become a more engaging entertainment, and it can even be used in classrooms to illustrate charts, diagrams, and more to students. When browsing the web, users will be able to go over images, texts, and the overall content with the Dot Pad.

They're closely looking into the prospect of creating braille modules for the public. Upon completion, the braille module will be modified to appear in various places: transportation infrastructure, home appliances, and in everyday environments. Adding braille display modules in public transportation areas will allow the visually impaired people to have more accurate information. It will allow the people to use the public transports with comfort. When we imagine the future of smart technology, it always leads to a city an effective overhaul of innovating an entire ecosystem. This small technology that can serve to change the way our visually impaired people interacts with bus stops, elevators, bank ATMs, or even driverless cars of the near-future.