Stevie Wonder (center) poses with Dot co-founder Kim Ju Yoon (second from left) and other Dot employees. 
Stevie Wonder visited Dot's booth at the CSUN Conference 2016 in March last year 
and showed strong interest in the Dot Watch, praising its features.
Checking the time, finding a mobile phone or reading a text message.... 
All these are easy things to do for many people, but it can cause difficulties for those who are visually impaired. 
Many people enjoy information and communications technology (ICT) and share information around the globe through their smartphones and the internet. For those who are visually impaired, however, it's a different story. They're often isolated without the benefits of technological development. 
Braille equipment or the text-to-sound (TTS) service on smartphones does help somewhat. Such equipment, however, costs more than KRW 5 million and weighs around 2 kilograms. TTS services for smartphones inevitably cause an invasion of privacy. Another problem for the visually impaired is the lack of braille books. This is the same in countries everywhere.
So the visually impaired community around the world, and in Korea, too, is eyeing a Korean venture startup that has developed the first-ever braille smartwatch.
The Dot Watch is the first product made by venture startup Dot
. At one glance, the Dot Watch seems to be an ordinary watch without clock hands. In fact, its basic functions are to inform its wearer of the time and date, and act as a stopwatch. Unlike other wristwatches, however, the Dot Watch has a braille display. Through its proprietary braille transmission technology, the braille display can tell wearers the time. Wearers need merely to touch the display to read the braille.
When connected via Bluetooth with a smartphone, the Dot Watch can offer even more functions. If you connect the Dot Watch with a smartphone through the Dot Watch app, on either an iPhone or an Android system, you can receive real-time information received by the smartphone, such as text messages, Kakao Talk messages or various alarms. The Dot Watch informs the wearer who is calling. It allows wearers to read e-books. The Dot Watch can even act as a remote control. It helps users find their smartphones, especially when they can't find it by calling or paging it, which many visually impaired people may find difficult.
Dot has already received advance orders from 15 countries before it began exporting. Well-known U.S. superstar Stevie Wonder and Italian tenor Andrea Bocelli have both ordered a Dot Watch. Dot has won an award for its design and an award in the innovation category at the Cannes Lions Festival 2016, a first for a Korean firm. The company has also won various awards from both in and outside Korea, receiving recognition for its innovative technology and creativity.
Choi Ah Rum says, "The Dot Watch is the first product made by Dot, and everything will start from now." Choi is one of the founding members of the company who worked with Dot's co-founder Kim Ju Yoon throughout the development of the Dot Watch. 
Park Im Beom also works for the company. He says, "The Dot Watch enables us to enjoy many things and various activities that we used to find difficult." Park is visually impaired and began working with Dot as one of its product testers. 
We learned more about the Dot Watch and Dot's future plans from Choi and Park.

- It seems that Dot may have seen many ups and downs as it developed its first product and started business. Even the company's vision seems to have been somewhat dark. How did the company deal with this? 
It was in September 2014 when co-founder Kim Ju Yoon happened to find a large braille Bible and some of the heavy braille equipment of his classmate when he was studying at the University of Washington. The Bible and the equipment led him to start a new venture and to develop the Dot Watch. In terms of market vision, it was uncertain for us. It wasn't an easy development process, either. While going through all the trials and errors due to financing and a lack of technology, we thought this wasn't a suitable area for a startup. However, we were very lucky. The global trend of incubating venture startups helped us. Thanks to a common consensus that this was for all people with any sort of visual impairment, we were able to get some investment. We also realized that many visually impaired people had great hopes for us. They made us think that, "We must develop the Dot Watch, otherwise we'll be letting them down."

- Were there any memorable moments of difficulty during the development of the Dot Watch? 
Yes. One such moment was when our testers found it hard to feel the braille display, even though we could see it clearly moving. One day, a man in his 70s visited my office to ask if he could get a Dot Watch for his grandson. He travelled to our offices all the way from Cheongju. That made us realize that there were great hopes for the Dot Watch. 
We sure had a lot of difficult moments, though. We contacted many communities of visually impaired people when we conducted our customer research and ran product tests. At first, many of them treated us like hawkers who were trying to sell a watch. Now, however, many of them can thankfully recognize us.

- The Dot Watch has received advance orders from 15 countries, even before it started exports. How're exports going? 
We did receive orders from 15 countries, including the U.K., last year. We're taking the necessary steps for exports for each country. In case of the U.K., the first country that expressed its will to purchase one of our watches, we sent a few sample products and have been waiting for the results.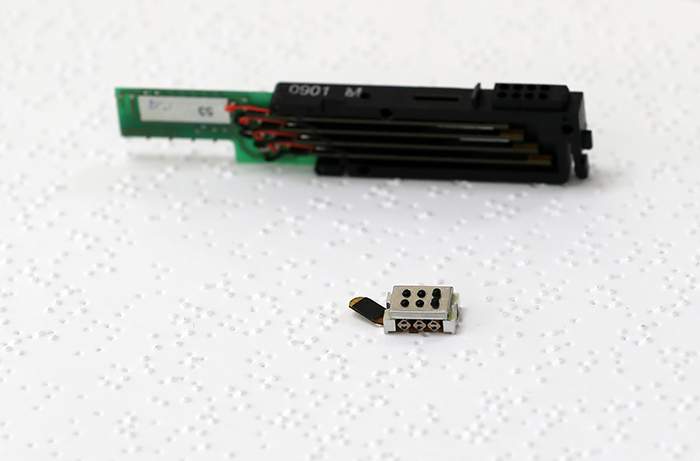 - Smartphones like iPhones and Android phones do have functions for the visually impaired. They also have some braille equipment. What functions can a Dot Watch offer as its core technology? 
If you change the settings, smartphones can transfer information into sound. This causes the user to reveal their privacy. They can't either check the time or read text messages in silence. If they use earphones, it will block their hearing ability which could cause more immediate inconveniences. Also, existing braille equipment is quite expensive and heavy, but it has been used for about 20 years without change. We here at Dot developed a mini cell by minimizing the cell used in braille equipment and lowering the price, as low as possible. Called an actuator, this small cell is Dot's core technology. It makes the braille letters by using a magnet. This cell will be used in every product Dot will make, including the Dot Watch, the Dot Mini and our upcoming tablet.

- The braille system of six-raised bumps is used widely around the world. In Korea, people use a Hangeul-based braille system called the Hunmaeng jeongeum (훈맹정음). Can the Dot Watch provide each different braille system, based on different languages or regions? 
The Dot Watch currently supports Korean and English. Technically speaking, it can provide all kinds of official braille systems. It may take two or three months or up to six months. We will make a Dot Watch that can do that.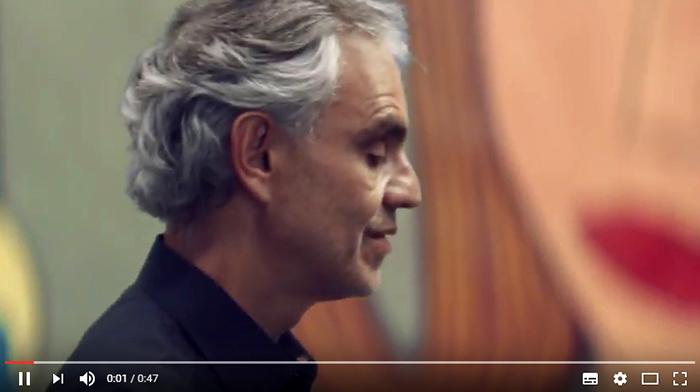 - The Dot Watch has received high recognition all around the globe. Even celebrities, like Stevie Wonder and Andrea Bocelli, have ordered one. Were there any similar products before? 
No. This is not an area with a good market vision. It's more or less the same in any country. As such, there haven't been any changes for 20 years or so, while the visually impaired were just relying on expensive braille equipment. 
We met Stevie Wonder at the 2016 CSUN Conference in March last year. He was so excited to find our booth and showed great interest in our products. We also met Andrea Bocelli at a workshop at the Milano Expo in October 2015. Bocelli even wore a Dot Watch in an advertisement for a German telecommunications firm. 

- Dot has been conducting a special project in Kenya. Tell us more about the project. 
About 300 million people around the globe are visually impaired and approximately 80 percent of them are in Asia and Africa. We chose Kenya, as that country has the largest English-speaking population in Africa. In general, the African people are worse off when it comes to educational and medical care. Visually impaired people are often isolated from others and can experience more difficulties there. If the visually impaired can learn braille and receive an education, it will greatly improve their overall condition.
Dot has been working with the Korea International Cooperation Agency (KOICA) as one of its promising startup partners for the organization's "creative technology solutions" (CTS) program. Since 2015, we've been running the Dot Mini Project at schools for the visually impaired in Nairobi, Kenya. This project aims to help students learn by providing 8,000 sets of Dot Minis, a piece of equipment designed to assist a student learning. Unlike the Dot Watch, the Dot Mini doesn't need Bluetooth or to be connected to a smartphone. When the user plugs in an SD card containing a textbook, the Dot Mini transfers the information from the SD card to the braille display and to a speaker so that students can study.
I've visited Kenya five times so far. I met one Kenyan student who was a bit unusual, as she was holding the Dot Mini way too close to her face. I later found out that she did so to read the braille display with her lips, as her hands were both numb. When she read a lyric from the song "Amazing Grace" -- "I was blind, but now I see." -- I was deeply moved. This made me think that I must work for a great cause.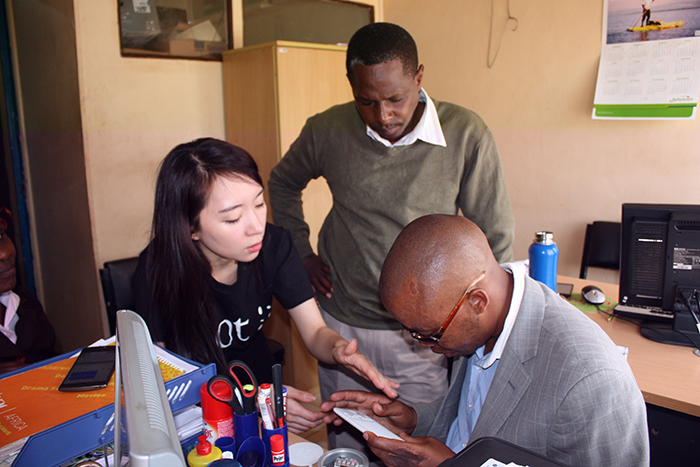 - We also wonder what other products, other than the Dot Watch, you might have in the pipeline. Do you have other goals, other than to improve the quality of life for visually impaired people? Tell us about Dot's future plans. 
The Dot Watch is our so-called "watch No. 1," and we will produce a series of similar watches, like watch No. 2 and 3. Watch No. 1 is Dot's first product and provides the basic functions of reading information and transferring it into braille. We have many ideas in the development stages and have considered loading various functions onto our devices, such as healthcare, near field communications (NFC) or reply functions. However, we had to simplify all of this due to price. We had issues in maintaining an affordable price. We will come up with more developed versions of the watch with various functions in the near future.
We're also interested in braille in public areas and public braille. By "public braille," we mean a new concept of building infrastructure where a braille module is applied to reflect real-time information at public facilities, such as subways or buses. It's meant to change the "dead braille" that currently exists in public spaces into a real-time display. One example can be installing a censor on stairs and doors of subways which sends location information to a Dot Watch. Dot Watch wearers will then be able to use the public facilities without any inconvenience. We're considering conducting public braille projects overseas, too, such as the one inside the subway system in Riyadh, Saudi Arabia.